Bruno Mars became the triumphant of the Grammy Awards ceremony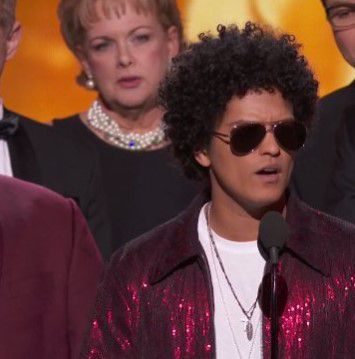 The singer has received seven awards. Singer Bruno Mars became the main triumphant of the 60th Grammy Awards ceremony.
As reported on the website of the award, the singer has received awards in seven categories. In particular, he received an award in the category "Album of the Year", and the song of the same name became the recording of the year, the composition That's What I Like became the "Song of the Year". In addition, Mars received awards in the categories "Best R & B Performance", "Best R & B Song" and "Best R & B Album". The seventh award went to the singer's album in the category "Best Mastering".
Rapper Kendrick Lamar received four awards, including a clip for the song Humble, which was voted the best music video. Ed Shiran won awards for the composition of Shape Of You and the album Divide. The award in the nomination "Debut of the Year" was awarded to 21-year-old Canadian singer Alessia Kara. Leonard Cohen and actress Carrie Fisher are posthumously awarded prizes in the nominations "Best Rock Performance" and "Best Talking Album" respectively. Composer Randy Newman received the Grammy in the nomination "Best Arrangement" for the satirical song "Putin" about the Russian president.
2018-01-29