Bono And Mike Pence Speak Of AIDS Bill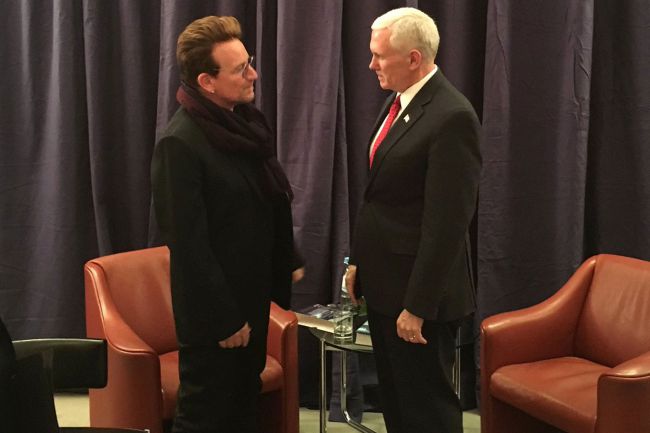 Mike Pence, the Vice President, had a short visit with Bono, a frontman of U2 and activist. This happened after an address at the Security Conference held in Munich (Germany) this Saturday. Pence vowed that the U.S. will "hold Russia accountable" in it.
The two spoke of the Emergency Plan for PEPFAR (President's Emergency Plan for AIDS Releif). This is an initiative from the government to provide treatment, education, testing and counselling to people fighting with HIV/AIDS in Africa and other places.
President George W. Bush was the first one to sign the initiative back in 2003. Then it was renewed by President Barack Obama back in 2008. Pence was an advocate for PEPFAR's passing as an Indiana congressman at that period of time.
Bono stressed that Pence defended that twice on the House floor.
According to Pence, that was an extraordinary historic accomplishment. He noticed that Bono played the main role in carrying it forward.
The singer has not stood aside of awareness about the worldwide HIV/AIDS epidemic for almost two decades now. He co-formed Product Red partnering with such huge brands as Gap, Beats by Dre, Coca-Cola, Starbucks, Nike etc.) in order to raise funds for charities struggling the disease.
Bono also co-founded the ONE campaign aiming at eradicating poverty and HIV/Aids in Africa. The campaign raises awareness and encourages Americans to contact senators and elected officials and share their opinions.
2017-02-20