Arnold Schwarzenegger has Good Time with Miley Cyrus, the Ex of his Son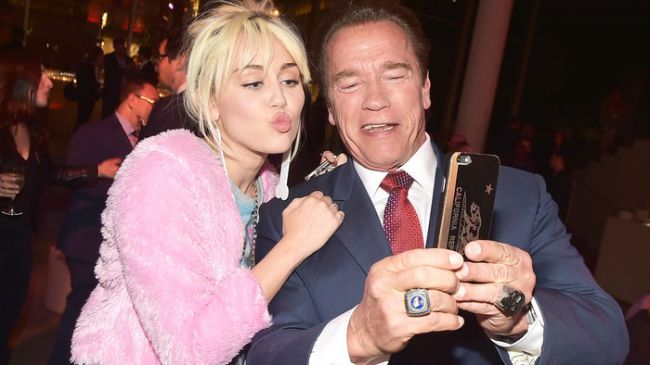 It looks like Arnold Schwarzenegger had a very amicable reunion with Miley Cyrus. If someone has forgotten, she is ex-girlfriend of Patrick, Arnold's son. Arnold and Miley were spotted at the NBCUniversal Upfront Showcase held in NYC on May 16.
The politician showed the evidence of their hangout in Snapchat . The 68-year-old actor wrote that he was lucky to spend time with the "great entertainer". His selfie video says that the 23-year-old Hannah Montana alum is one of the greatest entertainers around the globe.
The Terminator celebrity went on to say "eat your heart out." Amused Cyrus supported this statement.
According to Us Weekly, Miley has been dating with 22-year-old Patrick during 5 months. Then she quitted dating last April after a photo of him getting cosy with some blonde. The girl wore a bikini. That happened at his spring break trip to Mexico.
2016-05-18