Renee Zellweger and Colin Firth became Parents in the Bridget Jones's Baby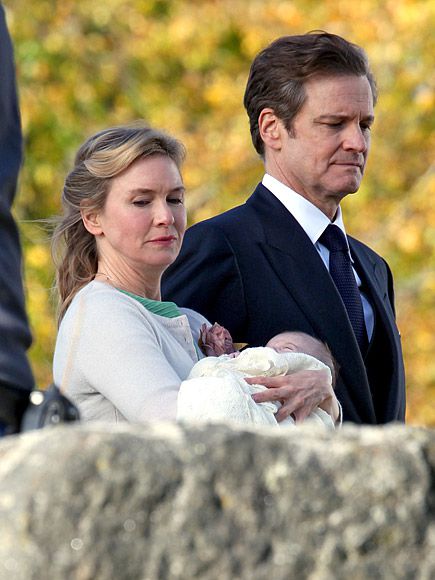 Bridget Jones welcomed a baby.
Colin Firth and Renée Zellweger filmed parts for the coming-soon 3rd Bridget Jones this Monday. One special co-star joined the cast: a baby!
Zellweger was spotted starring Bridget Jones's Baby both with and without a baby belly. Though, this is for the first time that admirers could see a fictional character's child.
The 44-year-old actress could be seen with her onscreen baby protectively held on the arms. We found out that it was a Christening episode. The child was wrapped in a blanket of cream colour.
As to Firth, he had a dapper outlook. The actor wore a sleek navy blue suit along with a matching tie. The star's brown hair was smoothened back and sprinkled with grey streak.
Sometime earlier in October, the actress was spotted wearing the identical green gown together with white cardigan. She came at a London market then.
The actors are busy with filming in Great Britain. Despite several hints about what we should expect from the film, the full plot and character details remain in a secret.
Bridget Jones's Baby is scheduled to be launched in September 16 next year.
2015-10-29