Renee Zellweger about Bridget Jones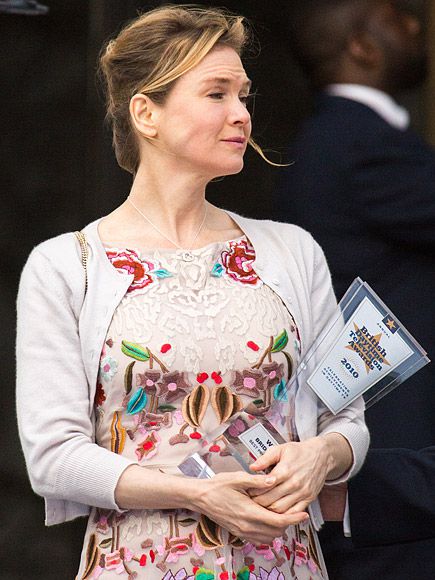 Paparazzi noticed Renée Zellweger in character during the shooting of Bridget Jones's Baby. This happened at Tate Britain in London this Sunday. The star was transporting an award for British Daytime Television's best producer of 2010.
The sequence probably refers to the times when Jones did not have a baby. Such conclusion was made judging from her cut in floral dress and the date on the trophy. Besides, the trophy hints, that Zellweger's hapless character is growing up.
Giving an interview for the latest cover story in Entertainment Weekly, Renée shared that Bridget became more mature.
However, this still does not mean that the character has outgrown her shenanigans. In the third instalment the girl finds herself in one more love triangle. There are two potential fathers for her baby – Mark Darcy (performed by Colin Firth) and yet-without-a-name billionaire character of Patrick Dempsey.
Speaking of Bridget's chaotic alter ego, Zellweger supposed that it is her actual essence. People cannot outgrow things that they do in their personalities.
Expect Bridget Jones's Baby in the cinemas on September 16 next year.
2015-12-22