Halloween Costumes of Neil Patrick Harris' Family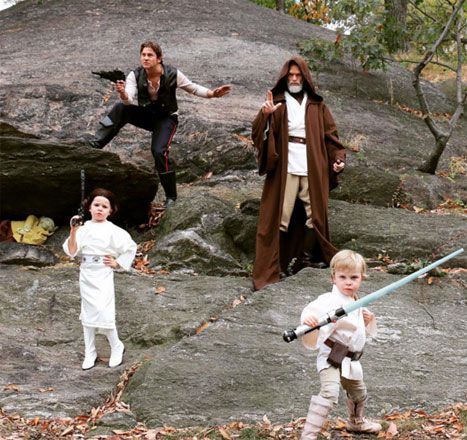 42-year-old Neil Patrick Harris, his 40-year-old husband David Burtka and their children shared their outstanding Star Wars scene on Instagram.
The host of Best Time Ever uploaded the adorable family picture on October 31. The family is posing in the film-themed costumes, performing the roles on a rocky mountain backdrop.
Harris dressed up as Obi-Wan Kenobi and his husband chose to be Han Solo. Their 5-year old children (Harper and Gideon) had perfect outlook in the costumes of Princess Leia and Luke Skywalker. Even the hairstyle was correct.
All the Hollywood knows that the family has been dressing up for Halloween for years. Back in 2014 the guys recreated Batman and the crew. Two years ago they put on Frankenstein's monster and Dracula outfits.
Besides, this Thursday the twins put on another colourful clothes to the Halloween concert at their school.
Burtka wrote under the picture that the twins wished to be the "Captain Color Pants" and the "Queen of Mermaids".
2015-11-02