Eminem has Healthy Outlook on the Latest Picture with Zane Lowe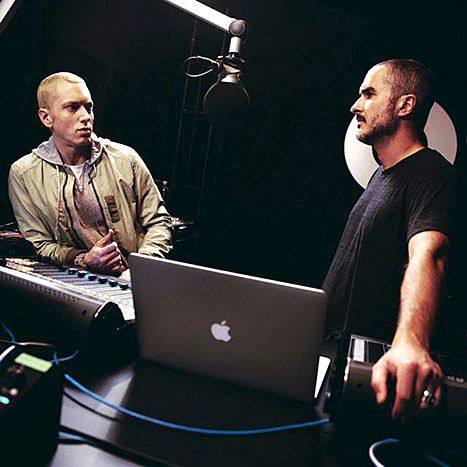 Eminem appeared on a new image with Zane Lowe on Twitter after keeping silence for several months.
The 41-year-old DJ uploaded the picture with the 42-year-old singer in order to teas his new work with Apple Music. It was found out this February that after working for years on BBC Radio 1 Lowe decided to leave the network and work for Apple. It is known that he will come back to the airwaves under the announced not long ago Apple Music service.
Lowe wrote that next week he will take his first interview as a DJ of Apple Music's Beats 1 Radio. The interview will be given by Eminem.
The picture shows Lowe leaning up against the equipment used at a studio. The DJ is not alone on the shot. We are glad to state that Eminem, who is near him at the image, looks focused and healthy. The rapper wears a hoodie and a jacket. Sure, his usual shade of hair is bleached blond.
The singer has not appeared on public much lately. Headlines spoke about him last autumn when the star looked much thinner than usually. The rapper's admirers started worrying that the Grammy winner was ill. Meanwhile, Us Weekly sources assured that the born in Detroit star has been focusing on his health.
An insider assured that Eminem jogs and eats healthy food. He also said that the rapper is healthy and happy.
2015-06-26