Brian Austin Green put on a 'Life Hurts' Shirt after parting with Megan Fox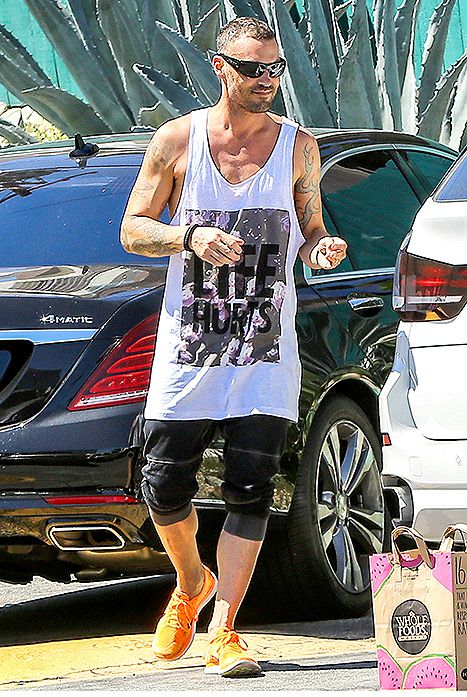 Brian Austin Green put on a "Life Hurts" sleeveless shirt. Obviously, it showed off the star's muscles. The star showed up in Los Angeles this Wednesday. This happened several weeks after Megan Fox, his wife, put an end to their relationship.
The 42-year-old celebrity matched his white shirt with jeans which were rolled up. He also wore meeting the eye sneakers of orange colour. The star was snapshot leaving a Whole Foods supermarket. By the way, he is wearing the ring up till now.
Last month Us Weekly told the news about the couple. The 29-year-old Teenage Mutant Ninja Turtles 2 star and Green parted after 11 years of coupledom. The divorce was filed by Fox on August 21 officially.
The couple met on Fox's ABC comedy called Hope & Faith eleven years ago. Once they have called off their engagement. This was six years ago in February. Then Megan and Brian got married in June next year. The actress often spoke out about their children – 2-year-old Noah and 18-months-old Bodhi. Though, it was her work in Hollywood that led to arguments.
2015-09-17