$8,554 for Lea Michele's Outfit!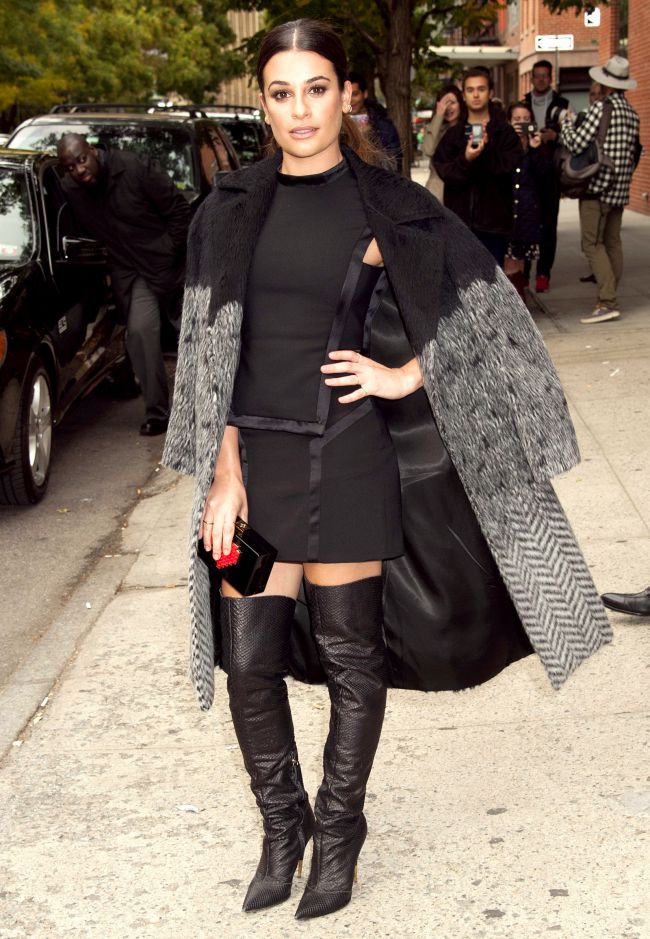 Lea Michele could be seen at EW Fest of Entertainment Weekly on October 24. The star was in a perfect autumn outfit. Notice that its price exceeds $8,000!
The 29-year-old actress wore a two-piece tuxedo suit from Sally LaPointe. Her pencil skirt costs $950 and Stretch Crepe Tuxedo Tank is priced at $890. The star matched the suit with black python skin over-the-knee boots from Zanotti Designs. The boots cost $2,025.
The Scream Queens actress held a "Grace Lolita'' clutch with a Lego heart decal. The clutch is designed by Les Petits Joueurs and costs $524. Besides, Lea put on cool diamond "Huggie" earrings for $1,375. Dana Rebecca Designs created this accessory.
The Glee star put on a gray and black Max Mara "Flash" coat over her perfect outfit. The coat is priced at $2,790.
We assume that the star's autumn style fits her Scream Queens role more than the Glee character. In her conversation with the costume designer for both projects, Michele stated that she will not wear anything that reminds of Rachel Barry. Lea explored sexy and beautiful outfits on Glee. However, being a Chanel requires faux fur, high-heeled footwear, a lot of make-up and accessories. The actress is having fun with her new looks.
2015-10-28