Miley Cyrus and Dua Lipa shot a video about the former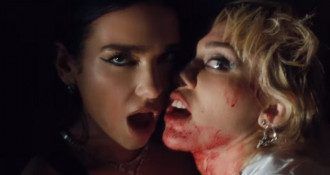 American singer Miley Cyrus in collaboration with British singer Dua Lipa recorded a bright video.
Prisoner's new song was released on November 19 on RCA Records as the second single from Miley Cyrus' upcoming album Plastic Hearts.
The video was directed and photographed by Alan O'Herlichy. She filmed Cyrus and Lipa riding a big bus and performing at a bar. The clip conveys the spirit of the 1980s, and the girls in the video hug, kiss, and smear each other with something red as if blood.
Miley Cyrus described this song as the perfect combination of her style and the style of Dua Lipa.
For the first time, the collaborators hinted at collaboration by posting joint photos on Instagram in August this year.
In 13 hours after the premiere, the clip has already gained 4 million views.
2020-11-20