David Beckham told about his tattoos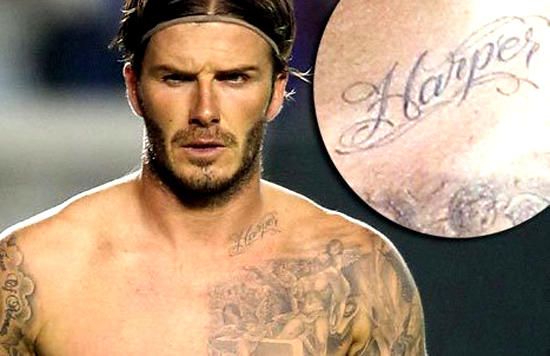 Ex-football player David Beckham has made 30 tattoos since 1999, and each of them is a specific symbol.
The first tattoo from David was filled in honor of the birth of a first child - Brooklyn. A football player struck his name on the lower back in the form of a gothic font. Later, an image of a guardian angel appeared above him.
After the birth of Romeo and Cruise, famous father placed the name of the second son above the wings of the angel, and Cruise - under them. In honor of baby Harper, a tattoo of her name appeared on David's neck in an elegant font. When Beckham's daughter was four years old, the picture was supplemented with the inscription 'beauty.'
David didn't forget his beloved wife Victoria. On his left hand, there is the word 'Love' in the image of a swallow, as well as the name of the wife with a quote from the rapper's Jay-Z song "Dream big, be unreal."
2019-03-21