Rapper Jay-Z left in the restaurant $11 000 tips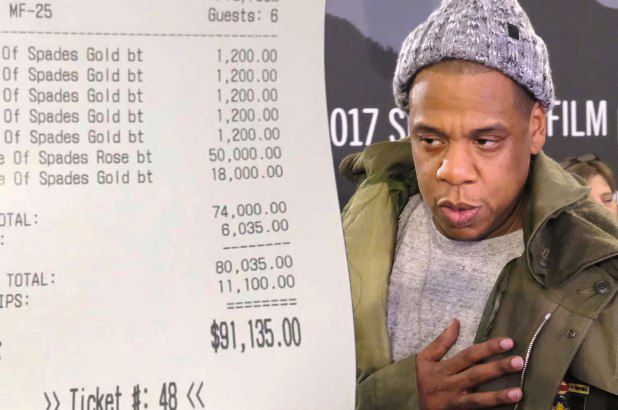 Rapper Jay-Z celebrated his friend's birthday on a grand scale, spending a total of 110 thousand dollars for the evening.
After dinner in the restaurant and gatherings at the bar, he and his friends went to a nightclub, where he left a tip for eleven thousand dollars. Users did not like it: the rapper is accused of greed. In mid-February, friend rapper Jay-Z, sports manager Juan "Oga" Perez, had a birthday. As a true friend, Jay led a birthday boy and a company of mutual friends to Manhattan. On Sunday evening they visited three establishments in the center of New York.
The night began at the Zuma restaurant on Madison Avenue, where friends left, according to PageSix, thirteen thousand dollars. The evening continued at the Made in Mexico bar, where they left a slightly more modest amount - nine thousand dollars. Jay-Z ordered cognac brand D'Ussé, the owner of which he himself is. A bottle of this elite drink will cost about six thousand rubles. Apparently, not all survived such a stormy night. In the next institution, Jay-Z and his team went six. It was a nightclub Playroom. Here they decided to order a very expensive champagne brand Ace of Spades, which, by a funny coincidence, also owns Jay-Z.
2018-02-21