Kim Kardashian made nude pictures on silk sheets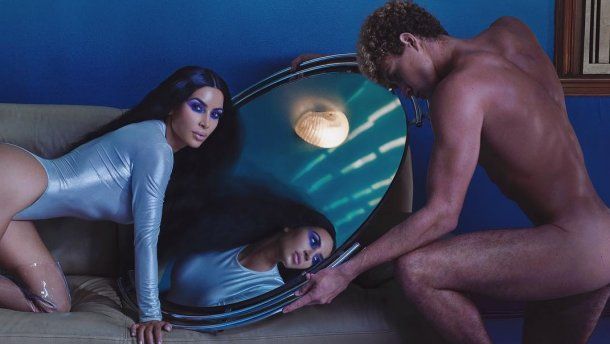 The reality-TV star advertises own cosmetics with her naked body again.
Kim Kardashian appeared in a new photo shoot to advertise her own brand of cosmetics. Candid star photos posted on her page on Instagram.
To advertise a new palette of shadows, Kardashian arranged a nude shot. The star made a bright eye makeup with several shades of the advertised palette. In pictures published on the web, Kardashian is posing completely nude. This is not the first time a celebrity has attracted attention in this way.
The star lies on blue silk sheets in the color of the shadows on the back on one photo. Kardashian's chest covered by her fingers and hid the bikini area under the corner of the sheet.
On the second photo, the reality star stands covering his chest with hair. A black male stands behind Kardashian and holds a dove in front of Kim. Fans noticed that after the birth of the last child, Kim Kardashian became too outspoken, not rarely condemning the mother of many children for vulgarity. Recently, a new picture of Kardashian in a micro-bikini was convicted on the web.
2018-10-23