Angelina Jolie with children on the red carpet NBR Awards - 2018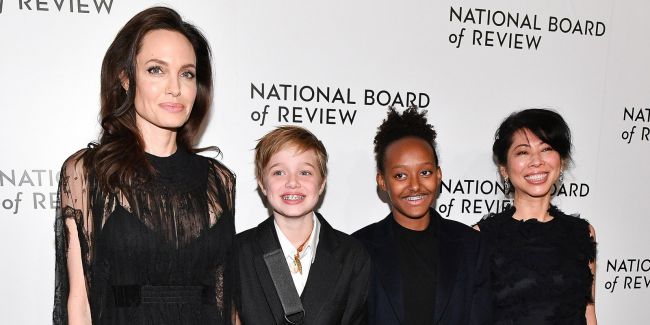 Angelina Jolie does not claim the status of a sex symbol today. She has other priorities.
Now, at large-scale stellar events, the actress appears in the company of her children. After all, the family for Angelina is the most important. On the eve of the ceremony in New York's Cipriani awarding ceremony of the National Council of Film Critics USA. At the event a lot of stars gathered, but Angelina Jolie, as usual, was one of the most interesting for journalists and photographers. As for the girls, they were in a great mood this evening: Shilo, despite breaking the collarbone during snowboarding, did not ignore the event.
Angelina chose the black elegant Valentino dress, Barollo Italy shoes and Forevermark decorations for the release. Recall that on the red carpet of the Golden Globe Award, which was held in Los Angeles on the night of 7 to 8 January, Angelina Jolie appeared in the company of her son Paks, who helped her work on the film "First they killed my father." The whole family was in a good mood. They posed in front of cameras, gave out autographs and looked simply delightful. Visitors also noted the beautiful view of the mother of the family.
2018-01-10