House of Cards With Kevin Spacey, Got This Year's Tony Award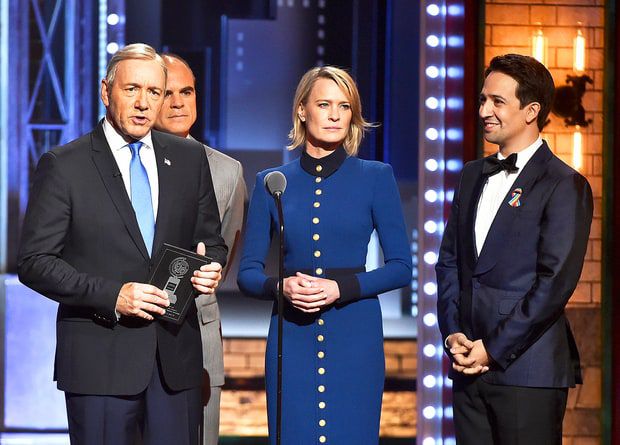 This year's Tony Awards were full of political references. The event ended with a fan-favourite fictional president taking the stage.
An announcer presented the President of the U.S. at Radio City Music Hall. Meanwhile Robin Wright, Kevin Spacey and Michael Kelly appeared onstage as their House of Cards characters. Teh stars had an envelope with a winner's name. Best musical award went to Lin Manuel Miranda.
Spacey told it was an honour to shake the hand of the man who had created Hamilton. According to Kevin, the musical made the nation proud.
Miranda laughed to this and told it was an honour to meet Spacey. Miranda thanked and called him Mr. President.
Spacey improvised and stated he wanted to leave the place before Bette Midler thanks anyone else. Midler had a lengthy speech while accepting the award just before that.
2017-06-14