Tori Spelling Almost Ran Over Matt LeBlanc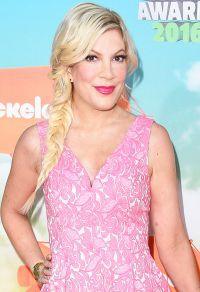 Tori Spelling shared that she almost ran over Matt LeBlanc, the Friends star, while taking driver's ed.
The 42-year-old star explained while playing in "Two Truths and a Lie" that something distracted her when the incident happened.
Spelling was in a car with her driving teacher and LeBlanc was crossing the road. The actress was so glad to see the hot actor that she almost hit him in the crosswalk.
The Beverly Hills, 90210 celebrity rehabilitated telling that she is a good driver now.
In February the wife of Dean McDermott and mother of four shared about the most embarrassing places where she urinated. They were revealed during Kocktails With Khloe.
The star calls her uninhibited alter ego Teri. She assures when Teri comes to visit, she always likes to pee. She can pee under the table, in a potted plant and everywhere. She does not appear that often as now Tori is a mom, but she is super fun.
2016-03-18