Sharon Stone in a Sparkling Bodycon Dress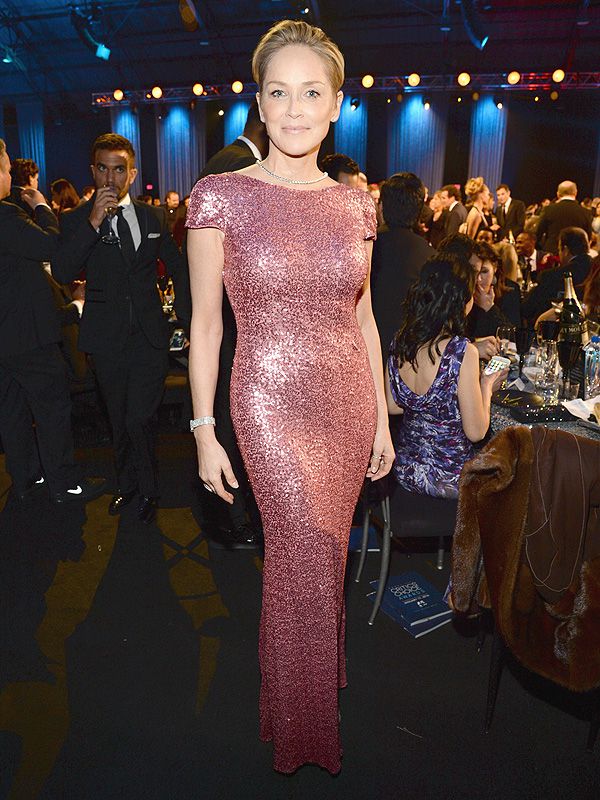 Sharon Stone, 57, is famous for her career, humanitarian efforts and trending style. She has been spotted on several red carpets in a knockout bodycon looks. The last one was a tight hot pink sequin number.
The actress was presenting Spotlight with the Critics' Choice Awards best picture honor. It was such a great pleasure to look at the celebrity. Her sequined salmon-pink dress had a scoop back with a cowl. The actress wore a sparkling chain. Its top could be seen above the high gown's neck. Diamonds and platform heels finished her look. The star decided to have simple and clean make-up and hair.
Sharon shows off many bold risks on the red carpet. All of them make a stress on her amazingly fit figure. During the star's nude photo set, Stone stated that she is not trying to be abreast with Hollywood, but does things that make her feel good.
Speaking with Harper's BAZAAR this October the celebrity told that her outlook is like "a bag of flapjacks". Though, perfect body or appearance is not her first priority. Having fun and enjoying yourself are also sexy, not just boob elevation, according to Stone.
In her conversation with Stephen Colbert Sharon insists that the key to happiness is accepting yourself.
2016-01-19