Diamonds for Rosie Huntington-Whiteley from Jason Statham: Engagement!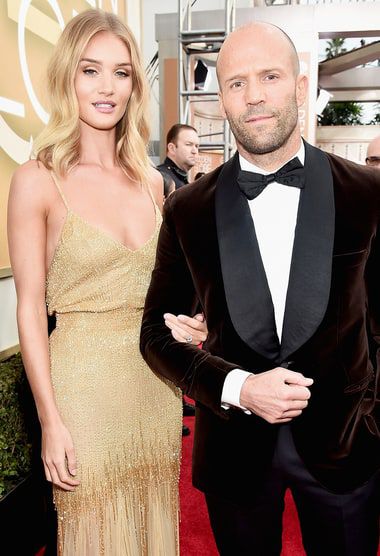 According to Us Weekly, Rosie Huntington-Whiteley and Jason Statham got engaged. The Victoria's Secret model in the past sparkled off her diamond ring at this year's Golden Globes on January 10.
The 28-year-old star had a gorgeous outlook in a beaded Atelier Versace dress at the ceremony. Rosie posed on the red carpet and flashed her ring while walking arm-in-arm with her beloved one.
The 48-year-old actor and Rosie presented highlights from the comedy with Melissa McCarthy, their co-star. The couple engaged during their vacation.
The Spy star and his love have met on set of Transformers. They have been dating for five years.
Last April the model shared with Self magazine that she and Jason are best mates. She revealed that Statham makes her laugh all the time. Rosie felt as if she has never had a proper boyfriend before she met him.
The actor's proposal was a surprise. In April the supermodel said, marriage was not an immediate priority to her. Being in a happy relationship is the essential thing to her.
2016-01-12