Amy Schumer Posts Throwback to Memorable Kiss With Amber Rose at Last Year's MTV Movie Awards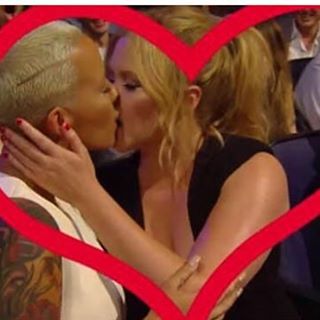 Never 4get. Amy Schumer made sure to properly mark the one-year milestone since last year's MTV Movie Awards, during which she and Amber Rose made out on camera, via a throwback Instagram post on Saturday, April 9.
"Happy anniversary @amberrose," the Trainwreck actress, 34, captioned the photo, in which she and Rose, 32, share a deep kiss as the audience behind them cheers. A bright red heart encircles both their faces.
The pair, who were sitting next to each other at the awards show last year, found themselves on the KissCam during a commercial break, and instead of demurely smiling and waving away the camera, they opted to go for it and give the audience a show to remember.
Schumer's throwback post comes just in time for this year's MTV Movie Awards, which were taped on Saturday, April 9, and will air on Sunday, April 10.
Schumer most recently made headlines after calling out Glamour magazine for including her in their plus-size issue.
"I think there's nothing wrong with being plus size," she captioned a photo of the story in question. "Beautiful healthy women. Plus size is considered size 16 in America. I go between a size 6 and an 8. @glamourmag put me in their plus size only issue without asking or letting me know and it doesn't feel right to me."
The comedian went on to note that including her in the story sent a mixed message to impressionable young women.
2016-04-11