Who has the Best Mother-In-Law? Kelly Clarkson!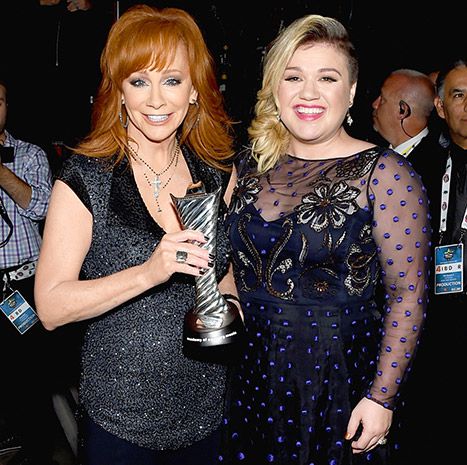 All daughters-in-law and mothers-in-law can be envious! Kelly Clarkson and Reba McEntire get along too well! Clarkson introduced her mother-in-law at the 2015 Academy of Country Music Awards this Sunday. Guess what?! She could not have been happier to have the honour to do it.
The "Heartbeat" hitmaker is married to Brandon Blackstock, the stepson of McEntire. Her mother-in-law was among the seven stars chosen for the 50th Anniversary Milestone Award show on Sunday. Clarkson had all the nicest and warmest things to say about the country celebrity.
Clarkson began her speech saying that she is the ACM's top-winning female vocalist having 7 awards. She went on saying that, during her career, McEntire has won 13 ACM Awards totally. Moreover, she reminded that the star hosted the show 14 times!
Clarkson cannot believe in her luck as only 9 years ago she cried backstage to McEntire "I wish to be you when I grow up". She was really pleased and surprised when one day they became not just friends, but a family.
Her voice was still heard amid crazy cheers from the crowd. Clarkson was saying that, basically, she has the coolest mother-in-law. Then the singer told people to "suck it". She finished her speech with words "the one and only Reba!" which were welcoming McEntire.
2015-04-20