Whirlwind Romance of Nikki Reed Marries Ian Somerhalder ended in a Marriage!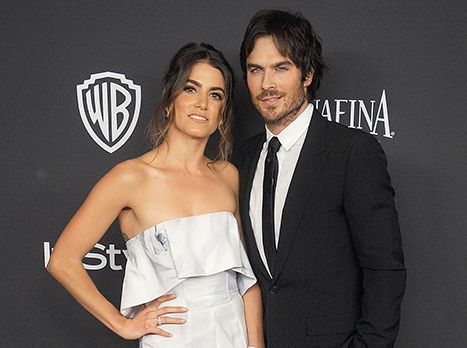 Good news! Nikki Reed and Ian Somerhalder got married! At least, several fan pictures which have appeared on the web approve this. E! and Daily Mail write that the couple tied a knot in Santa Monica on April 26.
The 26-year-old Reed is wearing a backless gown with long sleeves on the pictures. Her 36-year-old groom shows off a dashing white suit. Sometime earlier that morning the groom wrote on Twitter "most beautiful morning ever…"
The Vampire Diaries hunk and the actress were surrounded only by their relatives and friends at their outdoor wedding. An insider shares with Us that Reed could not have been more thrilled to be marrying Somerhalder. It was also stated that the couple is happy and very much in love.
Actually, Us really confirmed back in January the couple's engagement. It happened only after six months of dating. The happy actors moved in together in Atlanta. Somerhalder films his vampire drama there. It is obvious that the couple loves animals since they share a kitten Sohalia, dogs Enzo and Nietzsche and horses Millie and Eagle.
Earlier a source revealed Us that they were friends before the relationship. The source states that Reed and Somerhalder had always been attracted in another relationship to each other. Somerhalder has been dating Nina Dobrey, his TVD co-star during 3 years until they split two years ago.
Reed slopped over to Us about her future husband at the Noble Awards in Los Angeles two months ago. She opened up and said that while being friends they have had passion to similar things, such as environment, animals, education, and climate change, for example. So they really have common topics to discuss in the morning.
Do you want to know what their biggest fight is? Get ready! Somerhalder considers his eyes to be ocean blue while Reed thinks they are aqua!
Somerhalder got married for the first time while Reed tied a knot for the second time. The Twilight star has left the American Idol alum Paul McDonald in March of the last year. They have been married for 2 years.
2015-04-28