Tori Spelling is Back in her Pregnancy Monokini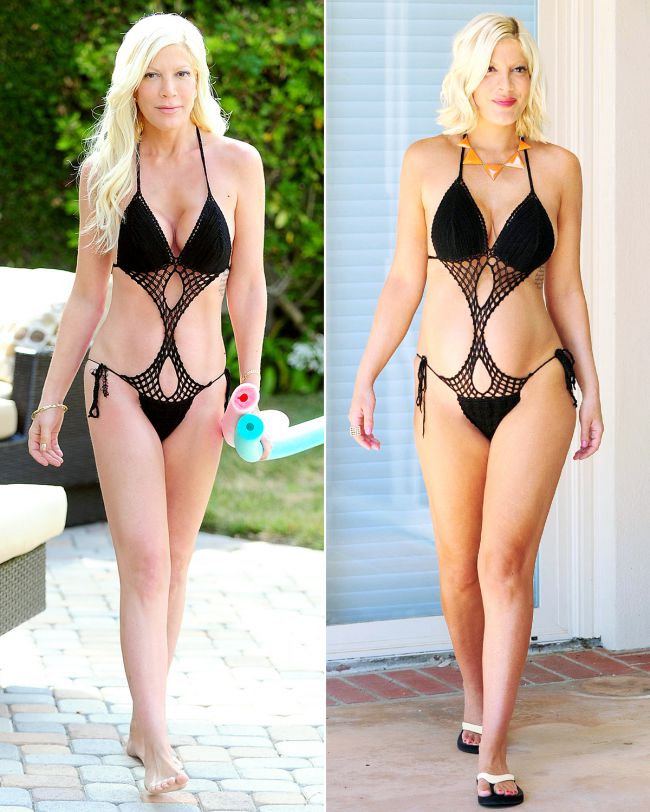 Tori Spelling was rocking her body in a crocheted monokini. By the way, she wore it while being pregnant with Finn, her fourth kid. Compare the star now and then!
The picture was taken in Los Angeles on July 16. The star wore the same teeny-tiny swimsuit which she rocked in three years ago. At that time Tori was on her eighth month of pregnancy. We must admit that her black bathing suit is extremely revealing.
The 42-year-old actress was lounging at home. Her amazingly trim body was clad in the triangle-top monokini which was joined by a crocheted accent over Spelling's good shape belly. The True Tori actress put on a charm bracelet. As to her hair, she left it in loose waves.
Tori is mother of four: Finn (2), Hattie (3), Stella (7), and Liam (8). She is married to Dean McDermott. It definitely was not her first time outing in the swimsuit under consideration. The star wore it at a family barbecue only several weeks before the birth of her fourth child. Then she wore the bathing suit with flip flops and a tangerine statement necklace.
Spelling reveals to Us Weekly at a New York City book launch that all her friends were asking her if Finn was planned. The star was shocked with such a question, as Hattie was only one month old at the time. The pregnant star had to wake up every night and feed her little daughter.
2015-07-21