Shirtless Jamie Dornan in Ibiza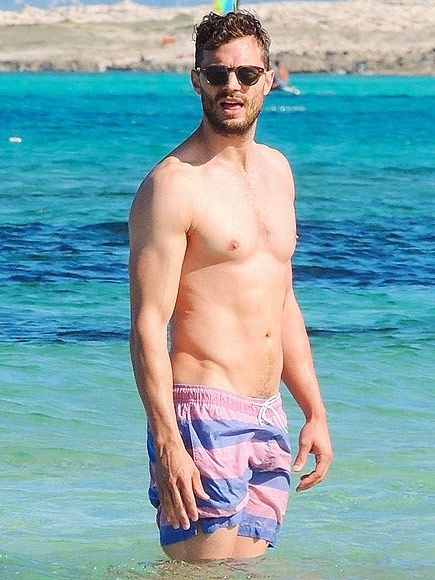 Jamie Dornan is having fan in Ibiza.
The Fifty Shades of Grey star had a fit outlook this Saturday. He wore pink-and-blue-striped swimming trunks... and that's it! He was lounging on Ibiza beach (Spain).
The 33-year-old actor will start performing in the awaited sequel named Fifty Shades Darker in 2016. The star told PEOPLE that he can't wait making the new film.
Besides, the actor signed on the 3rd season of The Fall, the popular British crime drama. Gillian Anderson also stars in it. Dornan is performing Paul Spector, a serial killer.
Jamie is well-known for playing various kinds of psychopaths. Though, he proves us that he is not such kind of person in his real life. Speaking of himself, Dornan named such words as "easygoing" and "light-hearted". He is wondering that with those real-life characteristics he manages playing sick psychopaths onscreen. And even more... he wonders how comfortable can he feel himself in that zone.
What we know is that Jamie definitely feels comfortable being shirtless on the beach zone.
2015-09-23