See Scary Full-Transformed Jared Leto on the Set of Suicide Squad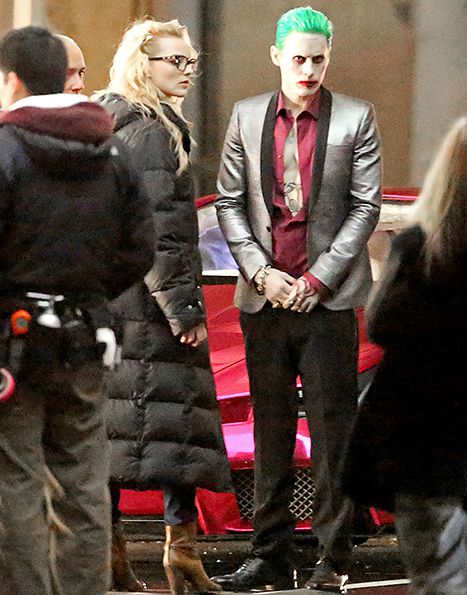 The transformation has been finished! Jared Leto was pictured on the set of Suicide Squad in Toronto on May 17. His terrifying look is really creepy.
The actor looked especially pale in his full makeup while filming together with Margot Robbie. He also had green hair and red mouth. The singer shaved his eyebrows off. He even sacrificed his brand-name ombre locks! The Dallas Buyers Club star packed on muscle preparing for the role of The Joker. The star wore a button-down shirt along with fitted pants in order to boast the result of his training – his chest muscles and The Joker's tattoos.
The 43-year-old Oscar-winner fights Harley Quinn before falling for a passionate kiss. Margot Robbie acts as Harley Quinn. Clown Prince of Crime is at the helm of a purple Lamborghini. The vehicle has a licence plate that reads "HAHAHA."
The 30 Seconds to Mars frontman boasted his bulging biceps with the help of Instagram earlier in May. The selfie read that we do not need to make him punish us. The photo served as a proof that the star has totally dedicated himself for transforming into The Joker.
By the way, Will Smith, model Cara Delevingne and Viola Devis also star in the film together with Leto and Robbie. The film is directed by David Ayer, The flick is going to be shown in August of the next year.
2015-05-19