Rumours about Kylie Jenner's Lips Plastic Surgery in Cosmopolitan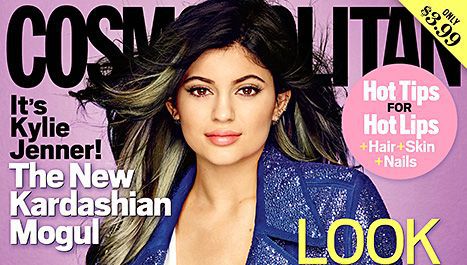 Kylie Jenner, a reality television star whose plump lips became a subject of admiration on the web, is gracing the February issue of Cosmopolitan. She discussed her true opinion on plastic surgery with the magazine.
At first the 17-year-old Instagram queen with 15.8 million followers rejected the change on her face. Dressed up in a blue bomber jacket, white tank top, and light blue jeans on the cover page, she claimed that the change of her face is obvious, as she is getting older and that she has learned how to do her makeup and contouring.
Looks like Kim Kardashian may have taught her something about contouring. The 34-year-old Instagram star is famous for revealing selfies concerning her face mid-makeup application.
Unlike her big sister, who tried on Botox on camera, Kylie Jenner says that currently she is fine with makeup, but she explains that she is not against of plastic surgery in future.
2015-01-07