People consider Music Clip "Dear Future Husband" by Meghan Trainor to be Sexist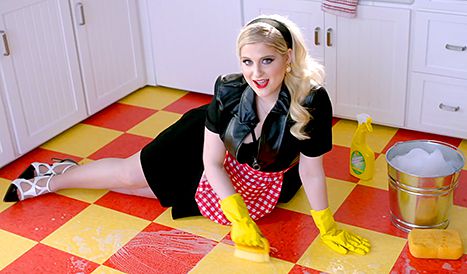 The career of Meghan Trainor kicked off in 2014 with the positive body picture anthem called "All About That Bass". The star did not think that there could appear the negative backlash in the release of the music clip for her new single called "Dear Future Husband".
The clip was released on March 16. The song is kind of a "to do" list for Trainor's future husband. It lists things the man needs to do in order to win the star's love and devotion. The 21-year-old star is cooking and scrubbing the tile floor in the clip.
Critics quickly claimed the singer's clip to be sexist. They set women back suggesting that they need to have a career of a housewife.
MTV News took an interview where Trainor was commenting the buzz around the clip. The star admitted that she was not expecting any negative reactions.
The singer tells that she was really surprised when people at the random places started asking her if she was being sexist. By the way, the star herself does not consider so. She stresses that the song was written to her future husband. Trainor thinks he is chilling somewhere at the moment and is getting ready himself for her.
2015-04-07