Nude Kim Kardashian is wearing Only Body Paint, see Pictures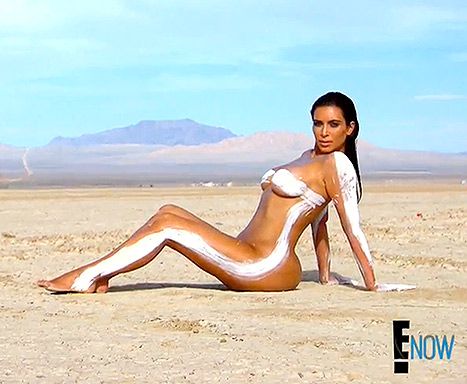 One more nude photo session from Kim Kardashian. The 34-year-old reality celebrity got off her clothes one more time on the May 10 episode of Keeping Up With the Kardashians. Her gorgeous curves can be seen in the middle of a desert. She is wearing only several stripes of white body paint in strategically chosen places.
We can see during the show how Kim posed naked for Kesler Tran, the photographer. This shoot is meant for the relaunch of her website. The mom of 22-month-old North West has a stripe of paint across her boobs and one more running the length of her legs.
Nude photo sessions are not new for Kim Kardashian. The Selfish author made two full-frontal shoots in 2014, one for Love and one for Paper. Imagine, the star revealed that she had to cope with insecurities concerning her body, just like regular people. The issues were connected with a persistent autoimmune condition which leads to patches of scaly, dry skin.
The beauty explained on KUWTK that she has psoriasis. There is no way to get rid of it, so there is no reason why the star should feel uncomfortable about it. Kim reveals that, in order to make herself feel better, she lays out all those insecurities before the shoot. She hopes that in such a way no one will be concentrated on the issue.
Constant fans of the family may recollect Kim's attempt to treat her disease with the help of Kourtney's breast milk two years ago in the episode of Kourtney and Kim Take Miami.
Kim Kardashian also adds that she simply wants to do artsy things and have fun. She is excited to capture some cool moments, have some beautiful pictures and be nude.
2015-05-12