Nicole Kidman gives Naomi Watts a Smooch and considers they are Sisters!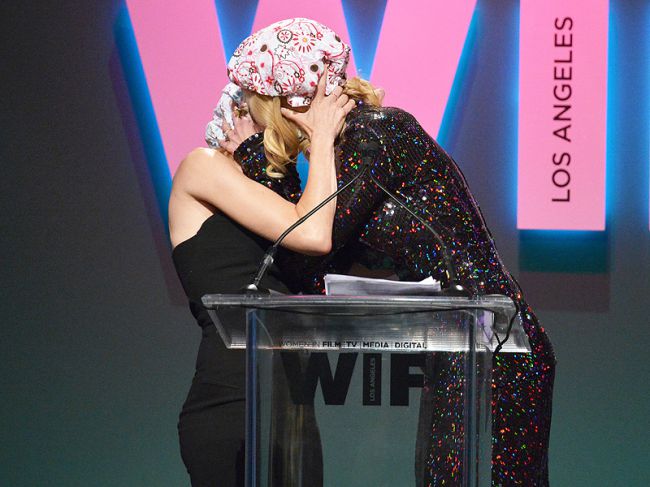 Nicole Kidman and Naomi Watts shared a lot of onstage love. They showed sisterly love at the Women in Film Crystal and Lucy Awards on June 16.
After 47-year-oldd Kidman received the Crystal Award for Excellence in Film from her friend Watts, the stars corroborated the success with a big smooch. The event took place in Los Angeles.
Very odd accessories could be seen at the event. The two actresses were wearing printed shower caps. They did not lose their minds. It was an ode to a childhood memory that the Dead Calm star turned to during her acceptance speech. The Moulin Rouge! actress spoke about a time she denied a role. That role was offered by Cane Campion, a director and screenwriter. The actress was 14 at that time. The star refused to perform this role, because she had to wear a shower cap and kiss another girl.
When Kidman finished recollecting her youth, she showed the director that now it is fine with her to wear such a cap and kiss anyone. Then Watts came to the stage in the same shower cap! The actresses embraced each other and lip-locked.
After the smooch Kidman explained, that the duo's closeness is a result of a long-time friendship.
The star revealed PEOPLE that they have known each other since the time they were teens. Kidman felt as if her sister was giving her the award. The actresses have known each other through so many things. She considers this to be a sidebar of their life, since it is all the personal stuff.
Kidman also revealed that they are going to celebrate Watts' birthday this Sunday. Naomi will be 48.
Watts gave a heartfelt speech proving their sisterhood. She called Kidman's loyalty "unwavering".
2015-06-18