Missy Elliott Will Perform Together With Katy Perry at the Super Bowl Halftime Show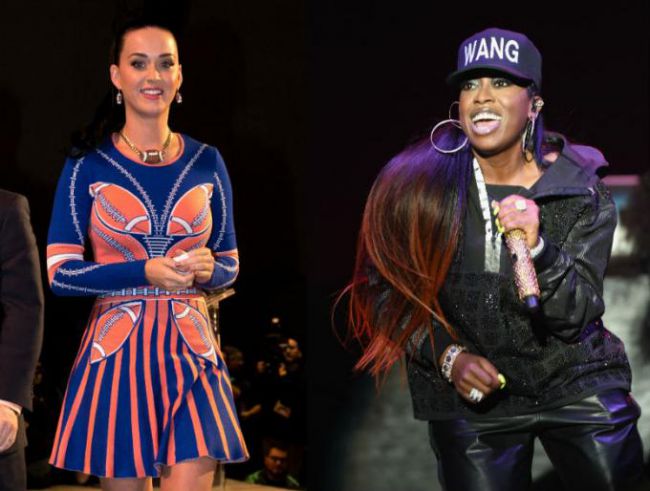 A source assures Us Weekly that Missy Elliott will be together with Katy Perry at the Super Bowl XLIX halftime performance which will be held on February 1. Lenny Kravitz also will be performing at halftime at the game held in Phoenix.
30-year-old Perry gave a hint about Elliott taking part in the big show at the press event on January 29. The singer told Us Weekly that she was too excited about the multiplatinum, Grammy-winning performer.
Perry has been working with Elliott on her remix 2011 hit "Last Friday Night" (T.G.I.F.). She shared that the event is going to be a real girls' fun night. Saying that it might be a little bit old-school, she assures that faces will melt and jaws will drop when Elliott comes out on the stage and the audience hears her first ring of the chord.
The song list has not been revealed yet. Such rapper's hits as "Work It", "Scream a.k.a. Itchin" and "Get Ur Freak On" are all award-wining and are capable of getting the public pumping at University of Phoenix stadium which is in Glendale, Ariz.
Perry will say during her 12-minute routine that she admires the past halftime performers, such as Madonna and Beyonce. Perry expects fun, wonderful, not too serious time for everybody. She recollected Beyonce saying that when she takes a look at different performers, she admires. The singer told that Beyonce brings unbelievable sass and strength flipping her hair like no one else can. Speaking about Madonna she mentioned that the singer is responsible for bringing some outstanding choreography and graphic design. Katy Perry confessed that she would like to become a combination of Madonna and Beyonce.
2015-02-02