Miley Cyrus was noticed with Long Armpit Hair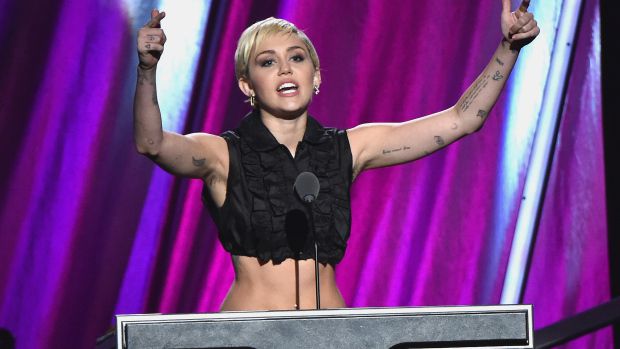 A style do or laziness? Miley Cyrus is famous for her risky styles. Just recollect her love of denim shorts and high-cut bodysuits. She showed up in another stunning outlook on April 18.
The 22-year-old "Wrecking Ball" performer saluted Joan Jett who is her musical god at the 30th Annual Rock-and-Roll Hall of Fame Induction Ceremony. The ceremony was held in Cleveland, Ohio.
Cyrus wore a sleeveless black belly shirt. Get ready! She displayed long armpit hair and tattoos at the podium. These details were not enough since she added some shocking facts about herself. Cyrus told that she wanted to have sex with Joan Jett.
She uploaded an image on her Instagram page later. She is wearing a freethenipple reverse jumpsuit on the photo and has pink pasties shaped to look like a heart with "J" on them. The star captioned the photo with words "Joan's cheerleader".
2015-04-22