Lily-Rose Depp and Mom Vanessa Paradis at Chanel Fashion Week Show in Paris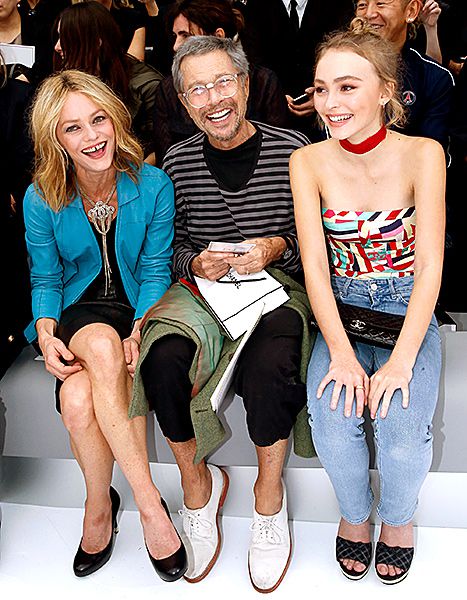 Lily-Rose Depp attended the Chanel fashion show together with Vanessa Paradis, her mother. The event happened during Week Fashion held in Paris on October 6. The girl had a truly sophisticated outlook.
The presentation was airport themed. The 16-year-old Lily-Rose put on a colourful tube top from Chanel, casual jeans and a red choker. The daughter of Johnny Depp, who is the face of the company's eyewear campaign, had a very elegant outlook. The girl also put on plaid sandals. Lily's hair was taken up in a messy top knot.
Her mother matched a black sweater and a blue leather blazer with a leather pencil skirt. A statement silver chain necklace accessorized her outfit. Besides, the French model wore black pumps and had a classic quilted bag from Chanel.
Paradise and Lily Rose came at the luxury fashion event only one day after the Pirates of the Caribbean actor revealed Gala, a German outlet, that he was worried about his daughter's couture career. Johnny Depp did not expect things that are happening with his kid to happen at this age. Though, he understands that these are her own passions and that she is having fun.
2015-10-07