Lady Gaga Without Pants?! See the Latest Outlook of the Songstress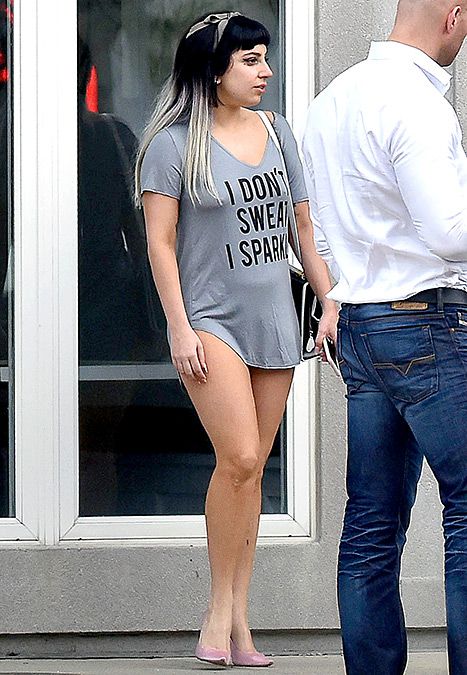 Lady Gaga showed up on March 18 in New Orleans, Louisiana without any pants – just in a T-shirt and on high heels!
The 28-year-old Cheek to Cheek hitmaker was snapshot in a T-shirt with short sleeves. It was written "I don't sweat, I sparkle" on it. The diva matched it with pearly pink and white-pipe purse. Besides, she added nude hose.
Being out and about in the film Big Easy, the star also created her hairstyle. She dyed her hair in black and white, then took a taupe ribbon and tied it into a headband.
The "Born This Way" singer's last ensemble surprised everyone, since she was photographed in ultra-sophisticated street outlooks. The street styles include hats reminding those of Kate Middleton and various skirt suits lately.
All in all, Lady Gaga enjoys her outlook as she paraded its pieces – the shoes, the bag and the huge engagement ring – on Instagram. The American Horror Story: Hotel actress also wrote near the picture that she was invited on the wedding of her best friend which came off last weekend.
Gaga considers watching the best friend's marriage and happiness in the lives of all her friends to be the most special moments in her life.
2015-03-25