Lady Gaga misrecognizes Mariachi Festival in Chicago for Pride Parade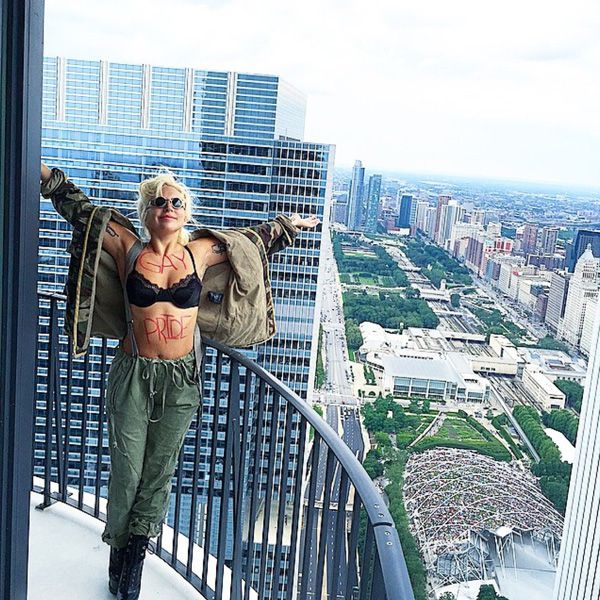 Whoops! Lady Gaga championed the world of mariachi performers in a try to express her support of the Pride Parade in Chicago this Sunday.
The singer uploaded a picture on Instagram on June 28. The photo was taken from the balcony of her flat in Chicago. The star is overlooking an enormous crowd below her.
The 29-year-old singer made a caption which read that she is watching the parade and smiling. The star wrote that there were so many happy folks there.
The "Born This Way" performer is shirtless on the photo. Though, she has the words "Gay Pride" written on her stomach and chest.
The thing is that the star was not even near the Chicago Pride Parade. The crowd below her apartment was celebrating the Chicago Mariachi and Folklórico Festival.
This festival was organized in order to honour the Mexican folk music. The event took place at the famous Pavilion situated at Millennium Park. Apparently, the parade grew over the Lakeview neighbourhoods and Chicago's Uptown.
The singer's fail was first detected by the Mariachi Heritage Foundation. They shared Gaga's words "So many people" on their Facebook page.
Sometime later they also had fun with Gaga's picture. There was a sombrero photoshopped on her head. Though, this was not the end. The inscription on her chest was changed into "Mariachi".
Despite all the mistakes, the performer is still proud of supporting gay rights.
It was written by the star on one more image that she considers the parade to be the coolest thing she has ever seen. The singer feels good as lots of her friends and loved people are feeling valued and are celebrating.
2015-06-30