Kim Kardashian's Dress caught on Fire at CFDA Awards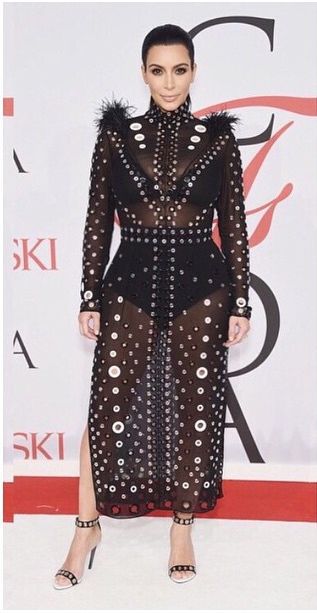 Kim Kardashian caught on fire! The star has got into some trouble when her ingenious custom dress caught on fire from the candle at CFDA Awards this Monday. The star was lucky to have good friends who extinguished the fire.
Not long ago the star has announced that she is expecting a baby. The 34-year-old celebrity was wearing a transparent ankle-grazing grommet-embellished design from Proenza Schouler. The dress nipped at the star's waist and was decorated with feather puffs at the shoulders. The cocksure outlook was completed with coordinating hills. Can you guess what one more accessory did the star bring with her? Here is a hint: it was her favourite one. Sure, she had her husband Kanye West with her. West was wearing Haider Ackerman.
The celebrity from the Kardashian family presented Kevin Systrom, the founder of Instagram with the media award at the star-studded event. Kim assured paparazzi that she adored the slimming silhouette of her gown. It is very interesting to watch how the star's high-fashion style develops along with her second pregnancy.
2015-06-03