Kelly Ripa's Hair is of Ocean-Blue Shade, what Colour is Next?!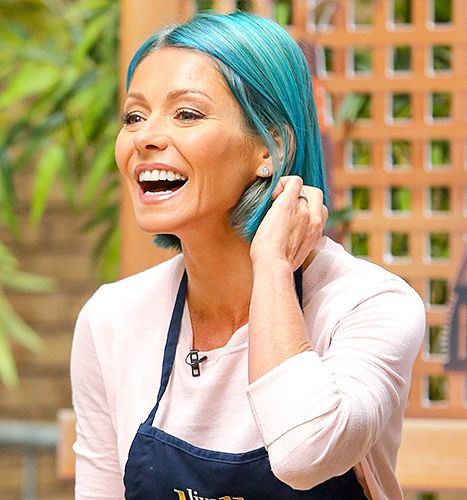 Kelly Ripa revealed on Instagram on July 8 that she has dyed her locks one more time! We got used to blonde Ripa, but then the Live! With Kelly and Michael host presented bright pink locks. With what will she surprise us now? The star dyed her hair in a bold ocean blue. Now we can say that Ripa is a part of the Rainbow Brigade!
The 44-year-old star uploaded a picture of her new hair colour on Instagram, wrote that shady is back and asked her admirers to tell their friends about it. Ryan Trygstad, the star's colourist also uploaded two images of the soap opera alum. The first one shows both of them. The hairstylist captioned the picture with words "Why not stage #2" and added three blue hearts to his note.
As to the second picture, it supposes that the mother of three has not finished her experiments yet! The famous specialist wrote that Ripa's hair is the healthiest hair around the globe and asked what colour will be next. He finished his message with green, pink, yellow, purple and black heart.
Being a hair chameleon definitely pleases the show's host. Though, the celebrity revealed on the show that Mark Consuelos, her husband, does not share her excitement about changing hair colour. The process of hair-dying took almost four hours. Ripa and Trygstad expected to receive blue colour, but it turned to be a lime green. When Mark saw his wife, he said that she looked like the Lucky Charms guy.
The star still has her sons to share her excitement with. Her 12-year-old Joaquin and 18-year-old Michael love their mom's new hair colour. The boys think that she has an outlook of a superhero now.
2015-07-10