Katy Perry in a Gaga Shoes at the Fashion Awards in Los-Angeles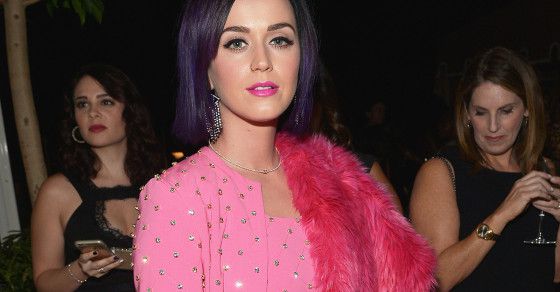 Katy Perry was definitely not taking a risk of a foot injury by putting on high heels before her Super Bowl performance which is scheduled for the next month. The 30-year-old singer was seen at The Daily Front Row Fashion Awards Show held in Los-Angeles wearing bright-pink slides which reminded the uber-comfortable shoes for shower.
There were doubts that Perry changed her pointy-toe Louboutin in the course of the show, but the singer tweeted that the gaga shoes were originally planned as her footwear. The star was dressed up in the Its Jeremy Scott collection for Moschino inspired by Barbie.
Katty Perry had a new hair colour – deep violet. She was wearing a pink jacket with twinkling finery and a furry pink stole. The famous Moschino leather motorcycle clutch was in her hands.
The singer was in tow to present Moschino stylist Jeremy Scott, who received the Designer of the Year award, together with pink-haired Nicole Richie, Miley Cyrys, Kanye West and Rihanna.
2015-01-26