Julianne Moore's Frizzy Hair does not let her Outside in Summer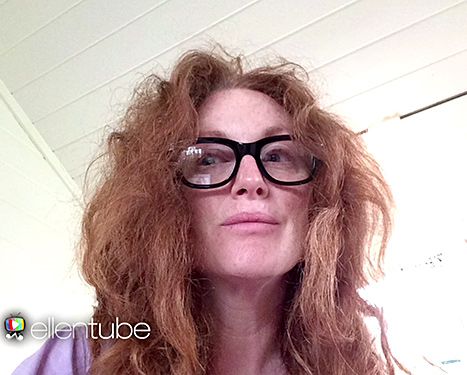 Julianne Moore has shared why she cannot go out in public in summer. The information leaked during promotion of her new film called Freeheld. So, we found out that the reason is her frizzy hair!
The 54-year-old star confessed that she is not capable of blow drying her hair correctly. So she just lets it go in summer time. The actress enjoys rocking her summer hair. Moore told Ellen DeGeneres that she likes her hair wavy, but knows it is really frizzy. When people admire her hair-do, she just says that she woke up that way.
The 57-year-old DeGeneres compared Moore's selfie to a usual kitchen item. She said that it has outlook of Brillo pads. The actress perceived the joke in a right way. The redheaded beauty laughed and said that her natural hair looks just like that. Besides, the star tries to stay at home as she cannot control her hair! She hangs out with her family and does not have dinner with anyone.
Besides the hair, the Oscar winner spoke about her latest role in Freeheld. The comedian plays a woman who suffers from lung cancer. The woman finds out that her pension will not pass to her partner after she dies. Moore told the host that the film is based on the real events. It is about the story of Stacie Andree (performed by Ellen Page) and Laurel Hester. These women have changed the domestic partnership act in NJ.
2015-10-08