Jolie Approves Michael Strahan Wearing Her Maleficent Costume at 2015 Critics'' Choice Awards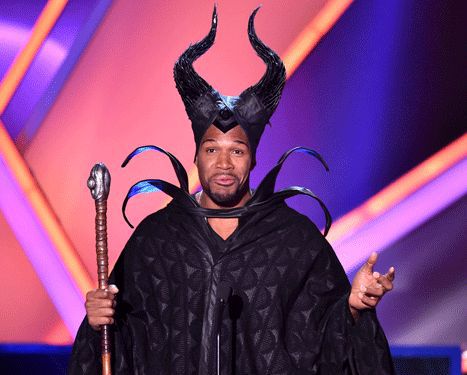 Michael Strahan literally walks in his favourite actors' and actresses' shoes at the 2015 Critics' Choice Awards last Thursday.
Strahan presented Critics' Choice Awards this year. Firstly, he stripped down to the boxers. In such a way he showed off his exotic dancing mastery prepared for the set of his upcoming film Magic Mike XXL.
Referring to the deficiency of his character's dialogue in the film, the athlete joked that no one needs lines while having such legs.
Although Strahan's legs carried weight, the main point was in the clothes that he wore and not in clothes that he did not wear. Considering that he was the host of the ceremony, his outfit made a significant impact on the audience.
In full swing of the ceremony the former NFL star showed up on the scene dressed up as Angelina Jolie in film Maleficent. He joked that he was putting the male into Maleficent. After that Strahan asked the actress what was her opinion about his costume. Jolie enthusiastically shouted from her seat that she liked it.
Sir Ian McKellen's Gandalf and Zero Moustafa's lobby boy also got athlete's treatment. Strahan joked that he was the size of Moustafa when he was studying in fourth grade.
After enchanting the public with his costumes, the host took a seat near his celebrity pals with Reese Witherspoon among them for taking selfies. Each table at the Hollywood Palladium had the 360i tablets provided for taking photos.
2015-01-19