Jennifer Love Hewitt's Baby Bump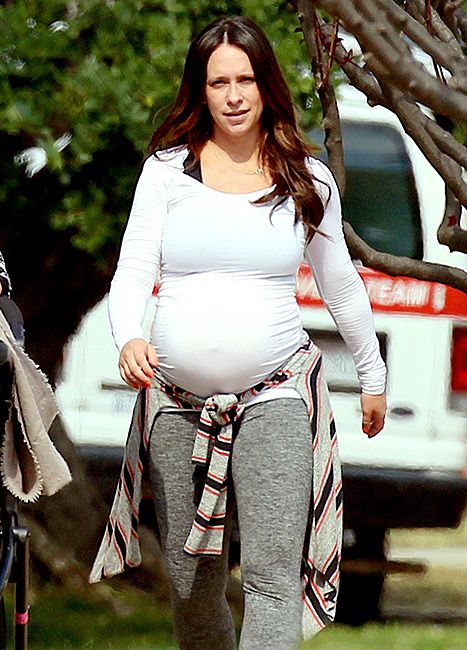 Jennifer Love Hewitt, who is expecting for her second child, took a walk with her first child Autumn around Los Angeles on April 22. As is right and proper, she did not have any make-up on.
The 36-year-old Criminal Minds star was wearing a fitted white T-shirt with long sleeves. The actress wore it over a black sports bra. Having extra casual style, she got into slim-fit sweatpants and mint sneakers from Nike. Her ensemble was completed by a striped sweater wrapped around her growing waistline.
The Kids Incorporated alum had a fresh, makeup-free face. Her skin radiated the glow of pregnancy. Hewitt has been married to Brian Hallisay for two years. She wore her long ombre locks in loose waves.
In an interview with American Baby, the actress confessed that she has kept to a diet for 25 years. Therefore, she appreciates her pregnancy food very much. Her younger daughter Autumn was born in November of 2013. Hewitt revealed that while being pregnant with her first child, she ate everything she saw! The star shared that her thoughts were like "Oh, there is a donut. I should have it!"
Practiced in pregnancy, Hewitt already knows that the baby does not need food like that. Therefore, the star eats healthy products. Nevertheless, she indulges in some little things that she wishes fervently.
The actress is showing her extra curves off. She tells the magazine that a woman's body changes so much, so there is sensuality about it. She made an accent on legs which look thinner and boobs which look great during a pregnancy and gave women a piece of advice saying "Work it!"
2015-04-24