Jennifer Lopez takes Her Children to Home Premiere, Her Son is not excited about the Cameras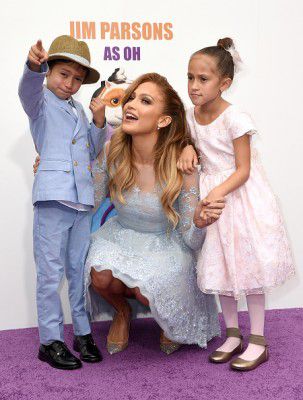 Jennifer Lopez took her adorable children Max and Emme to the presentation of Home this Sunday and her 7-year-old twins looked gorgeous in their red carpet outfits.
Max wore a powder blue suit and looked as genteel as his father Marc Anthony. Emme was dressed in a cute pink princess dress and a pair of gold ballerina flats. She wore her hair up in a beautiful tight bun.
Their mom wore a gorgeous pale blue Zuhair lace mini-dress. What was interesting is that while the womenfolk enjoyed camera flashes and excitement around them, little Max just shut his eyes tight and made grimaces when the paparazzi were trying to take photos.
Lopes, who voices Lucy in the film, stood on her knee in order to comfort the little troublemaker and told Us Weekly that the kids were very eager to finally get into the cinema and see the film.
The 45-year-old star assures Us that she feels really great. She is excited to see the film with her children. The actress told that it was their idea to go and watch the film.
Casper Smart, her ex also walked the purple carpet as he was creative director and choreographer of the film. He explained that he was not working with his ex-lover during the film creation.
Smart assured Us that he worked only with the director and told that everything is segregated in motion capture films.
2015-03-24