Heidi Klum Bares Her Buttocks in a 'Naughty Spoon' Picture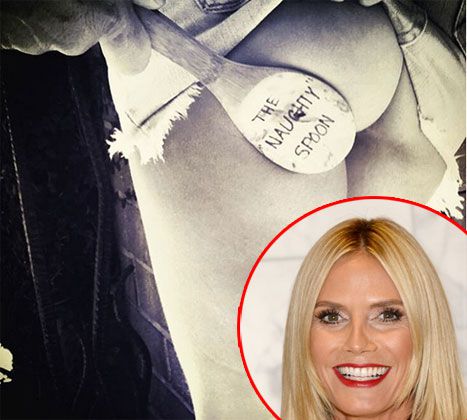 "Shy" is definitely not the word describing Heidi Klum!
Heidi Klum uploaded a very unexpected picture. The star is wearing a truly short skirt on the snap. The skirt reveals the Project Runway host's slender legs and gorgeous buns. Klum is posing near a wooden "naughty spoon". She uploaded it on September 6.
The supermodel from Germany made a simple caption for the picture. It reads "Ouch". Heidi did not share with us both where and why the snap was shot. She did not even reveal who is the man that holds the second end of the spanking tool.
The photo is really surprising. Though, everybody knows that revealing photos are usual for Klum's social media walls. The mom of four often uploads photos where she is without bikini tops. The 42-year-old blonde says that those ones were taken by her mother!
As we see, the leggy supermodel is not that much fond of wearing cloths. Last November the blonde shared with Us Weekly that she prefers less cloths while posing in front of the cameras.
The star honestly revealed that she feels sexier when poses without cloths. In other words, the less cloths she has, the easier it is to shoot and the sexier she feels.
2015-09-08