Has Hobbit 3 ruled the weekend box office for the last time?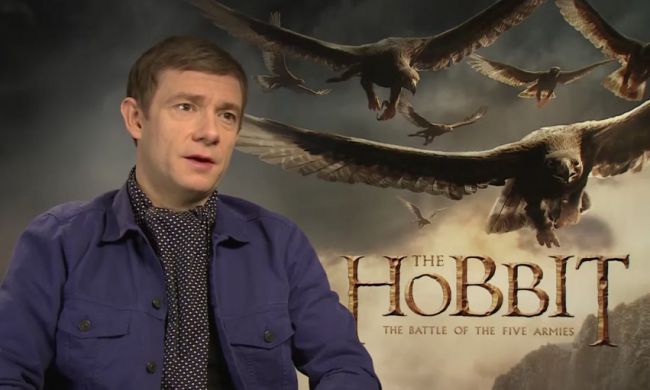 Hollywood kicked off 2015 strongly as moviegoers fueled six different films to grosses over $10 million or more. A number of films are also percolating in limited release providing cautious optimism that it may be a big January at the box office.
It's been a great run at the top of the charts for "The Hobbit: Battle of The Five Armies," but this weekend should be its last triumph in the at no. 1. Liam Neeson's "Taken 3" is waiting in the wings and, as you know, he's a man with a particular set of skills (namely, opening at no. 1 for the previous two installments). That being said, Peter Jackson's final visit to Middle Earth took in another $21.9 million for $220.7 million to date. The global take is even more impressive as "Battle's" haul reached $722.8 million and $1 billion still within reach.
"Into the Woods" continued its impressive run at no. 2 earning $19 million and $91.2 million in just 11 days. It should easily pass the $100 million mark by Friday.
Remaining in third was Angelina Jolie's epic "Unbroken." The Louis Zamperini bio pic found another $18.3 million and has now earned $87.8 million to date. No matter what the critical reviews this is an impressive achievement for Universal Pictures considering how little star power outside of Jolie, who just directed, they had to work with.
Debuting in the fourth slot was "The Woman in Black 2: Angel of Death" with $15.1 million. The horror sequel is a big win for Relativity as the indie outfit acquired U.S. rights to the Hammer Films production for just $1 million.
Dropping to no. 5 was 20th Century Fox's "Night at the Museum: Secret of the Tomb." The ensemble family comedy took in another $14.4 million for $89.7 million to date. Fox will hope international grosses can help drive the $125 million budgeted sequel into profitability.
Sony Pictures' "Annie" was the sixth film this weekend to hit the eight figures taking in $11.4 million for $72.6 million so far. It's possible the Sony Pictures will eke its way to $100 million, but its going to need big numbers from overseas markets to come close to breaking even.
One film that is barely in "nationwide" release and is continuing to flourish is The Weinstein Company's "The Imitation Game." The potential best picture player grossed another $8.1 million in just 757 theaters for $30.8 million to date. That's up a remarkable 2.3% from last weekend and proves "Imitation's" box office run has a long way to go. With expected Oscar nominations on deck, the Benedict Cumberbatch drama could easily hit the $100 million mark by Oscar Sunday or earlier.
A number of films continued to shine in true limited release beginning with A24's "A Most Violent Year." Officially the last release of 2014, the J.C. Chandor drama opened on Dec. 31 in four theaters in New York and Los Angeles. The critically acclaimed thriller earned $188,000 over the weekend for a $47,000 per screen with numerous sellouts. Over the five-day it took in $300,000 with a $75,000 per screen. "AMVY" will rollout slowly over the next few weeks before going nationwide on Jan. 30.
"American Sniper" continued to pull in a passionate fan base for Chris Kyle's autobiography. The Clint Eastwood drama earned another $640,000 or $160,000 per screen for a stellar $2.1 million to date. It opens nationwide on Jan. 15.
Also continuing a strong run in just 22 theaters is Ava DuVernay's "Selma." Another best picture contender, the historical drama centered on the landmark 1965 Selma to Montgomery march pulled in another $645,000 or $29,313 per screen. The Paramount Pictures release had earned $2 million to date and opens nationwide on Friday.
Nationwide releases next weekend include the aforementioned "Selma" expansion, "Inherent Vice" expanding as well as Liam Neeson in "Taken 3."
Final box office actuals are released on Monday.
2015-01-05