Harlow Monroe, a Daughter of Kimberly Caldwell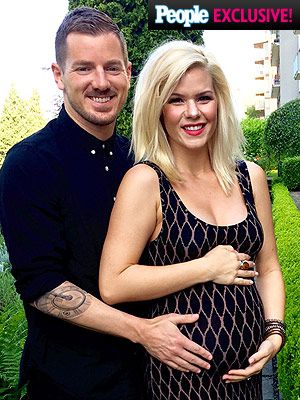 Kimberly Caldwell became a mother!
The American Idol star and Jordan Harvey, her husband, gave birth to a girl on October 7. This is Kimberly's first child.
The girl named Harlow Monroe Harvey was born at 9:37 a.m. Her weight is 5 lbs., 2 oz.
The pregnancy was revealed after the happy parents had determined the sex of their baby and came up with the name. This was in June. The future mom and dad said at that time that they are overjoyed with the preparations to their child's arrival.
33-year-old Caldwell joked that her baby girl was "wiggling around" in her belly all the time. She and her beloved soccer player made a series of pregnancy pictures. In such a way they started the 3rd trimester.
Kimberly recollects that it was truly empowering to celebrate her baby belly and gain new curves. The star enjoyed most of all standing near her muscle man without a feeling that she sucks in comparison with his abs.
2015-10-09