Gwyneth Paltrow''s Side-Boob in a Blue Dress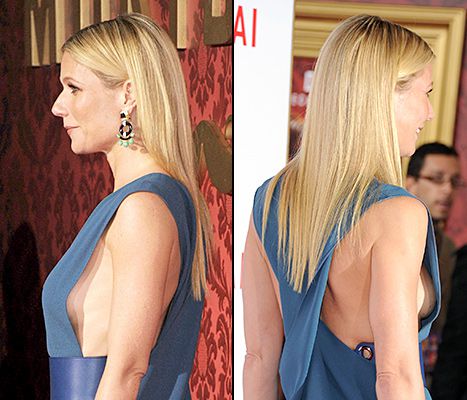 Gwyneth Paltrow banged the door to attend the first night of her new film this Wednesday in LA wearing a side-boob soft blue Lavin dress.
The regal gown from Alber Elbaz along with a thick belt made from leather, two thigh-high vents and a crisscross back made her outlook on the red carpet to be curious from all angles. The star's hair was sleek and straight. She also wore green and black earrings for more pizzazz.
Paltrow told Us Weekly how it was to play Johanna, Johnny Depp's showy wife in the film Mortdecai. She told at the premiere that after she has read the script the character "just jumped off the page". The actress went on saying that her character is a truly specific aristocratic English woman, very quick, funny and bright. She confessed that she was excited to play her.
The star also made the interview with Howard Stern clear. She was speaking about her prominent friends with Beyonce and Jay-Z among them and shared an opinion about her ex-husband's relationship with Jennifer Lawrence.
2015-01-23