Gwyneth Paltrow''s Jumpsuit Made Her look Nearly Nude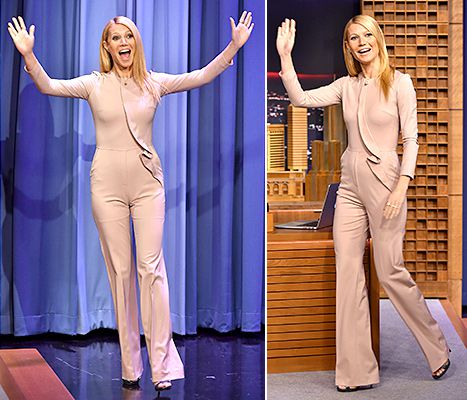 Gwyneth Paltrow has been very loud about her not picky style, but the star's jumpsuit outlook for her appearance in The Tonight Show Starring Jimmy Fallon this Wednesday could have been more colourful.
The 42-year-old actress put on a blush-hued leisure suit by Elie Saab which was very similar to the tone of her skin at the promotion of Mortdecai. It was the effect of ruffling seen from the neckline to the waistline that saved her from looking naked.
Nevertheless the jumpsuit's colour was very risky. The Goop founder compensated it in the beauty parlour. The actress sported glowing skin and styled her hair in a sleek sidepart.
The actress made a caption for an image on Instagram about her performance of hip-hop tracks-turned Broadway show songs from Big Sean, Nicki Minaj and Drake. It says that they are busting a flow at the show Fallontonight.
2015-01-16