George Clooney Told about his Wife and Honoured Protesters at Golden Globes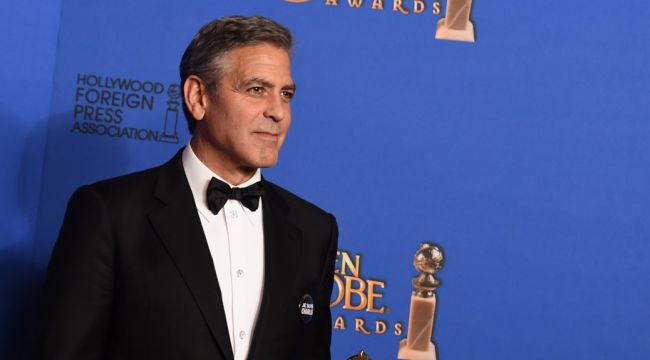 George Clooney was speaking about his newly-minted bride Amal at the Golden Globes in Los Angeles this Sunday night when he saluted her from the stage at the time of acceptance speech of his Cecil B DeMille Award.
The actor, who mated the human rights lawyer in Italy in 2014, was definitely at the honeymoon period as he pointed out the former Ms. Alamuddin following short tributes to the late Lauren Becall and Robin Williams. While congratulating the nominees at the Beverly Hilton Hotel George Clooney told that he had a good year not only including The Monuments Men. He also added that it is a humbling thing when you find someone to love. He said that it is even better if you had been waiting your whole life and when your whole life is 53. He stressed that he could not be more proud to be Amal's husband, addressing to her. Clooney closed his speech with one more tribute. It was dedicated to those who were a part of silent protests around the globe following the terrorist attack in France last week. He stated that it was an extraordinary day when people were marching not only in Paris but all over the world. He mentioned that those people were Christians, Muslims and Jews; they were leaders of various countries. The actor ended his speech saying that this march was not a protest but it was a support of the idea not walking in fear. "Je Suis Charlie", he said.
2015-01-13