Funky New Hairstyle of Shia LaBeouf: a Long Rattail Braid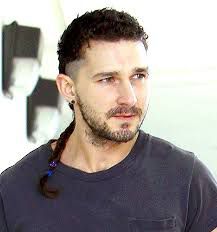 One day after Jared Leto said goodbye to his famous ombre locks, Shia LaBeouf has taken up a baton in promoting alternative styling outlooks for men. The 28-year-old LaBeouf presented a completely new hairstyle trend on the last day of winter in Los Angeles. We admit, one might need some time to get used with it, but it surely must be used for the handsome men of Hollywood.
Cousin to the mullet was seen almost on every head in the late 1980s and 1990s, the rattail braid of the medium size slinks against his back. The Fury star's new style also includes an edgy under-cut. Is it the work of great extensions or a highly potent vitamin for the growth of hair?
The length is perfect. The hair touches his shoulders and at the same time attracts attention to his buff pecks. The new hairdo reminds of Cary Fukunado, the director who got in good with everyone thankfully to his appealing man braid at the last year's Emmys. LaBeouf is a walking advertisement for the long hairstyle movement.
Will this help to forget Leto's gorgeous locks? It never will. Nevertheless, thank you, LaBeouf for providing new options for men's hair.
2015-03-04