FABLife is not your Mama's Talk!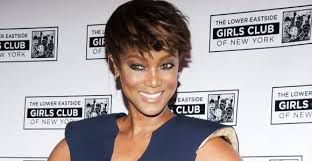 Tyra Banks leads a panel of lifestyle experts on her newest talk show. Its name is Tyra Presents FABLife. She says in her conversation with PEOPLE that it is not "your mama's talk", but it is something fresh and different.
Banks considers that it is truly important for women to have a place where they are able to relax, have a good time and learn something.
The star promises that they will learn. The resident food pro Chrissy Teigen, DIY specialist Leah Ashley, fashion mogul Joe Zee and interior designer Lauren Makk are the co-hosts of Tyra. They will share all their knowledge with the audience.
The 41-year-old workaholic, as Banks called herself, says that The Tyra Show was her last one. Having such a professional team now, Tyra can sit back sometimes.
The star is also a host of America's Next Top Model. Besides, Tyra is an owner of a direct-selling line of cosmetics. It is called Tyra Beauty.
Banks considers herself to be very forward-looking. She does not recollect the past. Just imagine, Banks has not even celebrated her first $5,000 modeling. She and her mother went to Pizza Kitchen in California then. Though now, having such a team, Tyra wants to drive forward and look back sometimes. And this star can do it as she did well!
2015-09-15