Engagement Ring of Zooey Deschanel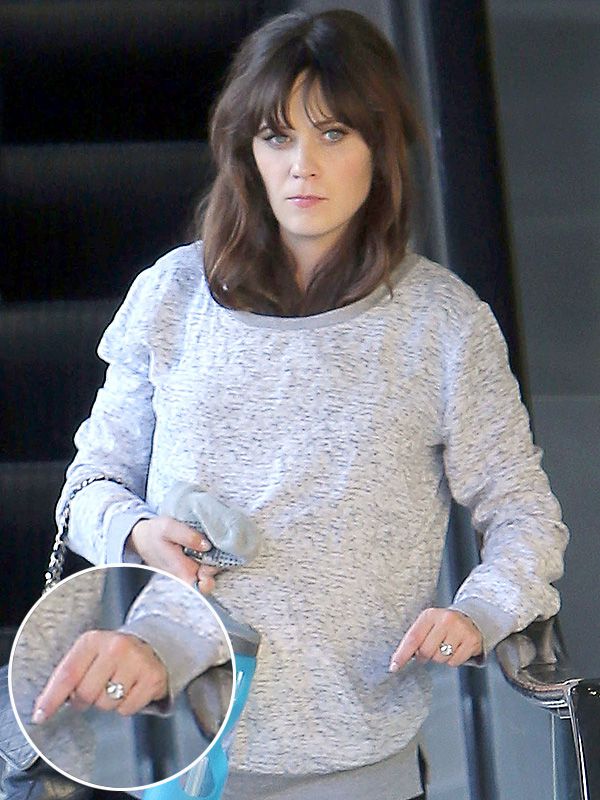 New Girl, new fallalery! Zooey Deschanel gave a glimpse of her engagement ring at last. The ring presented by her fiancé Jacob Pechenik, the father of her child, could be seen while Deschanel was leaving a Pilates lesson in Beverly Hills.
The 35-year-old future mom wore sweats, bare socks and Uggs, what is quite appropriate for Pilates. This outfit was matched up with one glamorous accessory. It was a huge sparkling ring on her left hand. She was seen with a slim rose gold band there earlier.
The diamond is a four-to-five carat. The ring is pear-shaped and is on a delicate band. Deschanel is not one of the celebrities who upload pictures of their rings on Instagram with the caption "Yes!" Therefore we will continue to guess.
What we can say without guessing is that she has a good sweatsuit and that her belly expands. The star tells that she is used to not eating during long time. She continues that now she can wake up hungry. This surprises her since she has never woken up hungry. Now she wants her breakfast every morning.
2015-03-26