Ed Sheeran went under the Needle again, see his Lion!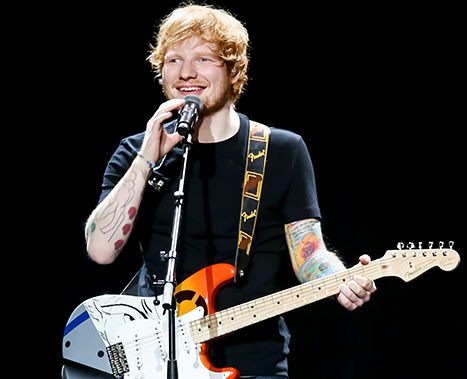 Ed Sheeran uploaded a photo showing his new tattoo. The huge ink took place on the star's chest.
The 24-year-old "Photograph" performer showed a picture of a lion's head on Instagram this Tuesday. It can be clearly seen that the inked picture is fresh. The tattoo was made in colour. It is possible to see the feline whiskers, mane and deep eyes of golden colour.
The ink covers big area of Sheeran's chest. Though, the singer wrote on Instagram that it is only halfway done. There is an outline in purple outside the ink. Probably the mane will spread there too.
Sheeran's caption was simple: "Halfway and ouch".
The star praised Kevin Paul, his based in the UK tattoo-specialist with the help of Twitter. He wrote that the artist puts up with his complaints that it hurts.
Not paying attention at the pain, the "Lego House" singer has already gone under the needle a lot of times. A huge area of his body is already covered with different tattoos. Sheeran has partly coloured sleeves on his arm along with such tattoo images as a tree, a lizard and a teddy-bear.
The singer shared about his plans to get a new tattoo in July. In his interview with BBC Ed revealed that he wants to have a lion on his body. The tattoo is supposed to mark his success of selling-out three back-to-back shows that took place at Wembley Stadium in London in July.
According to the star, he wanted to have the floor plan drawn on his side. Though, later he realized that it would be ridiculous. One more reason why Sheeran chose the lion for his tattoo is that it was the logo of the national football team.
2015-08-12